Simple sketches – with confidence!

The

Visual Thinker's Business Club
For coaches, consultants and creatives


For visual thinkers drawing is  THE WAY to get clarity and become visible.


Publishing simple drawings with your message will transform your business. I'm talking from experience!



You can build a library of your own images that you can now use over and over again. Never worry about permissions again! 

Social posts with your own sketches immediately stand out in the sea of stock imagery.


After only one year on Linkedin, my visual story posts get between 1000 and 30 000 views. 
If drawing is such a useful skill - why aren't more people using it in their business? 
Because we confuse it with "making art", we think it is difficult. 

The Visual Thinkers' Business club is if for you if...
You feel like you will explode if you have to go go though the stacks of pretty people on the shutterstock page once again to find an image that depicts "clarity" "heartfelt connection" or "Humanity thriving".




 

You can't stand all the booooring  social media posts that all look alike - and the worst is that your own posts seem to disappear in this sea of sameness! 



You are creative, and you have lots of ideas (maybe too many?), so you don't know where to even start with communicating your message (and might ask yourself "do I even have a message??)





You are a visual thinker - you need to SEE stuff before you.  Otherwise you  feel like drowning in confusion and can't connect the dots and




You would love to sketch sketch with confidence on a whiteboard for teaching and presentations – but you don't dare because you think your audience would laugh at your attempts. 


You want more fun and creativity in your business and life.



You want  personal feedback and guidance from me, and support from our lovely group for becoming more visible on Social media!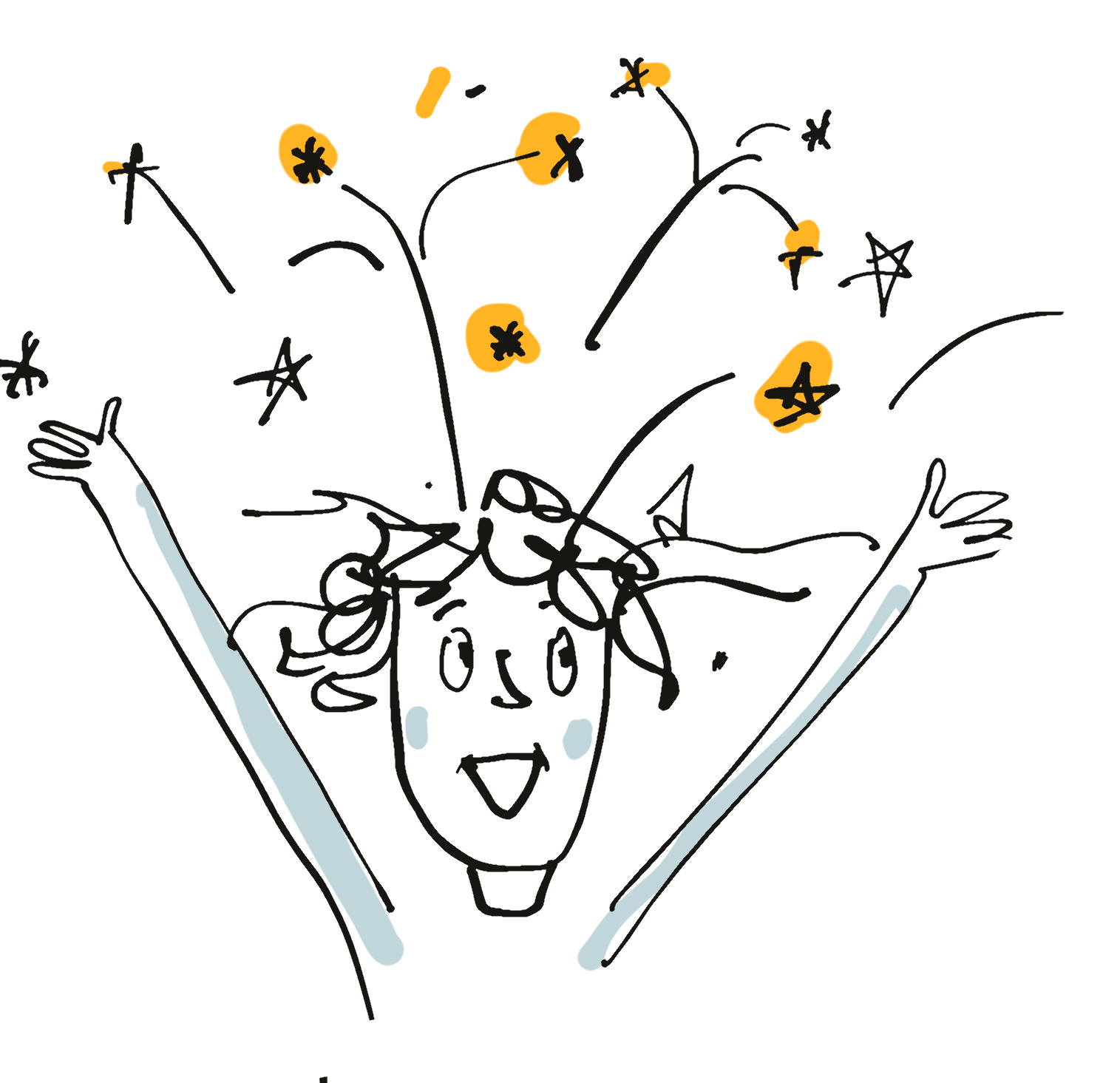 Sketching is an amazing tool to add to your toolbox - even if you think you can't draw. No matter if you're a total beginner or you want to re-kindle your love of drawing! 
Here you'll learn a fun and simple way to find, refine and express your message, with personality and humour.
We focus on different topics connected to  your business:

September, October and November we will focus on becoming visible on social media with simple sketches. We begin with a 6-weeks iPad drawing course on September 13th.
In January we will (re-)visit the big picture of our business and life with the Draw-your-dreams course. 
I will open the doors every time we start a new topic. 
Btw - The graphic above is something that we will cover in the course. If you're a visual thinker, this will help you to sort out your topics! 


A picture speaks faster than a thousand words. You just have to draw it!
If you are selling (or teaching) ideas that are abstract or complicated, drawing is one of the most useful skills you can learn for your business!
Draw simple sketches for teaching and presenting

Sketch your customers' journey

Draw a visual model of your service

illustrate our social media posts




Play, be creative and have fun! 
What students are saying – and drawing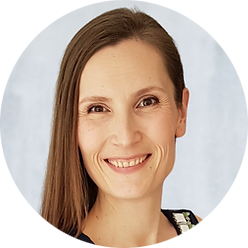 In just four weeks, I went from drawing stickmen (if that!) to a client putting *my* illustration on her corporate greeting cards... Just by watching Ingrid's online lessons and practicing at home.
Ingrid is right. You don't need talent—you just need the right instructions and a non-judgmental community to practice your art.
Mariann Roberts, copywriter

These are Mariann's drawings after only 4 weeks in the course! To compare, below is how her drawings looked before starting the course: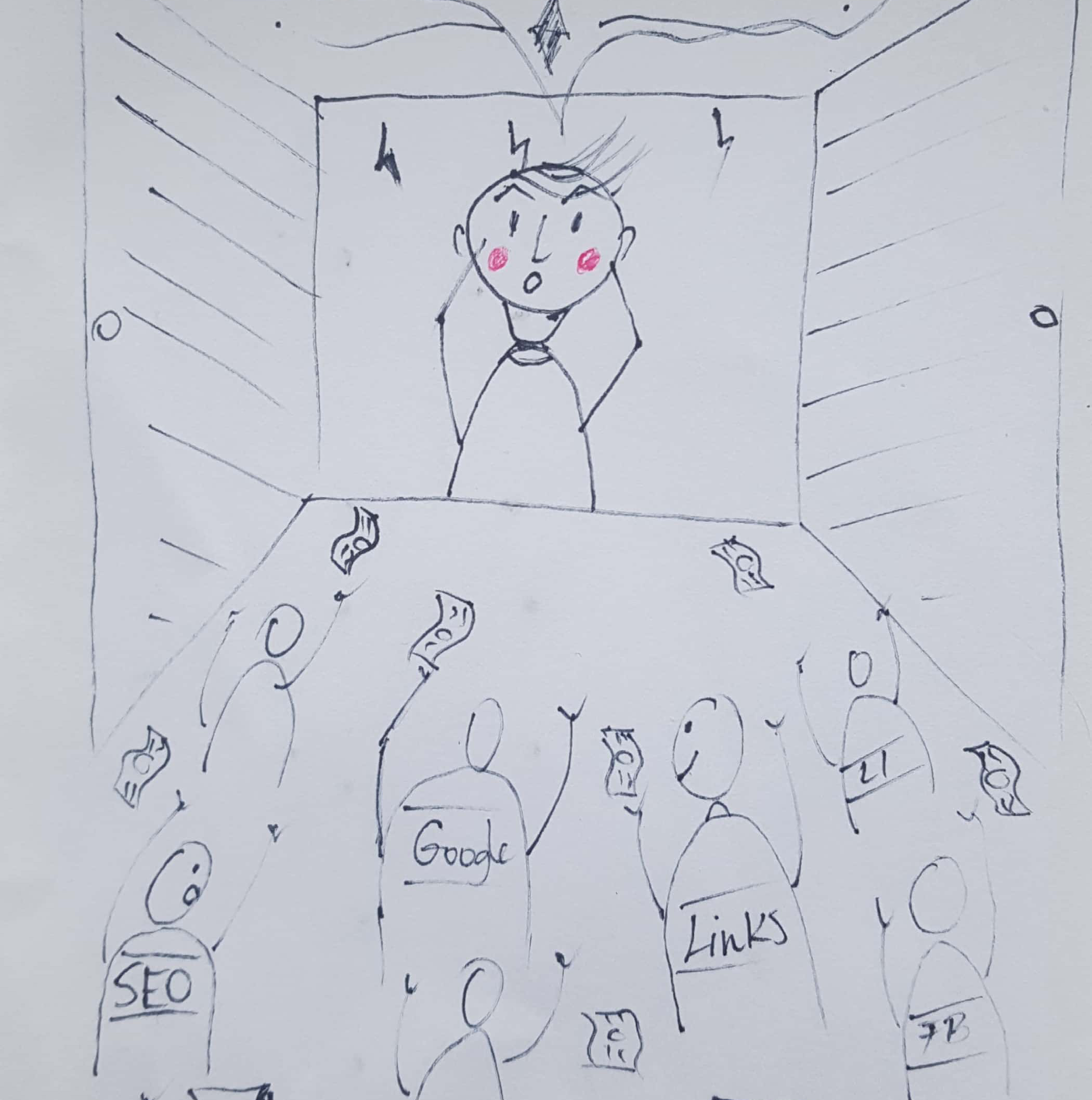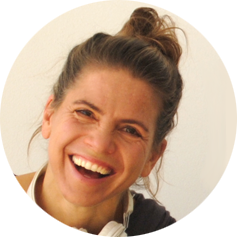 I have always dreamed of being able to illustrate a little bit - for my blog and for little everyday stories. But I drew worse than a kindergarten child and my attempts quickly ended in frustration. And then Lill's illustrations course came along. Drawing was suddenly really fun and my pictures became much better. Lill´'s feedback on the drawings was worth its weight in gold. So if you say you can't draw but would love to, this course is definitely for you.
Su Busson, coach
www.beyourbest.at

Since Su took my class a few years ago, she has illustrated all her blog posts! 

Like a singing coach helping people find their voice
"The thing you do better than anybody else I have experienced is that you give permission to people to draw the way they draw - and then develop it. Like a singing coach who helps people find their voice. It is exciting! "
Javan Bernakevitch, coach
Hybrid Course: The best way to learn.
Self study PLUS live sessions
1. Courses you can access right away: 
Simple illustration: Here you can learn to draw figures with personality in a few hours. 
The Visual Thinkers' Library is a huge archive of drawing-and business-related webinars that you can dive into. 
In Find your message I share my Brand Storyboarding method that I use with my 1:1 clients. 
Find your Style to help you... find your style! 

Find your Gamechanger  

about focusing on your superpower

Drawing on the iPad - the apps I use to churn out social media illustrations
Shine on social - Become visible through showing up consistently and strategically.  
You have access to all this as long as you are a member of the Club.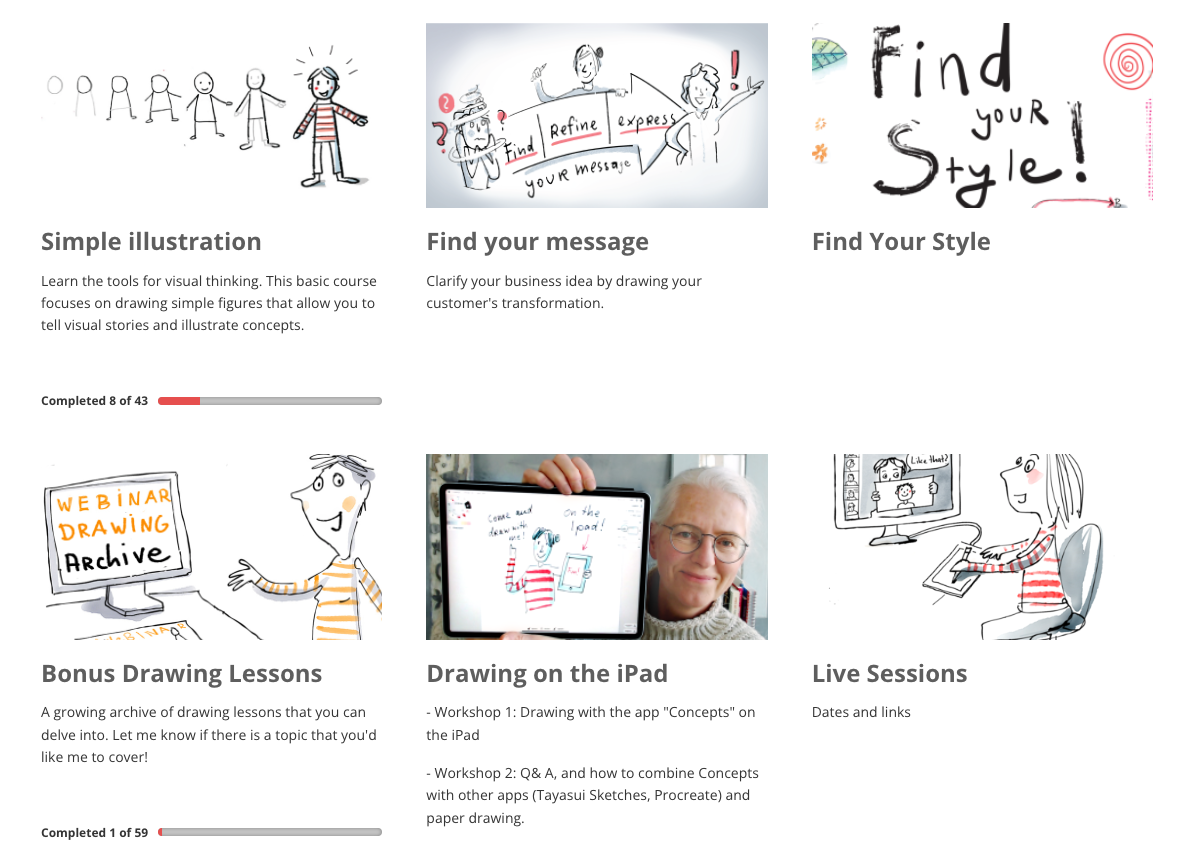 2. Live meetings & group coaching: Practicing together
Live drawing & coaching on Zoom - together with a bunch of fellow visual thinkers. (Almost) every Tuesday, 8-9 PM Copenhagen time. Here you see us showing the warming-up exercise!
You can jump in any time. Here are our focus topics 
Summer drawing: Learn simple illustration. Lots of practice and experiments to find your style, your message and your creative genius.





Focus on drawing for social media  Strategy and simple illustration skills for your social media posts 


September 13th - November 29th





Focus on your Vision - your superpower and your niche. 
Jan 2023  
A snippet from one of our live sessions:
 What if illustration is actually easy?

Here is what course participant Jason Schneider says about the course:
"First, when you see an illustration or comic strip you think "I could never do that", But when you take the first course from you -  it is like "Oh wait, I actually can do that!"
But... maybe I don't have talent?
I get it.
Really, I do. We have heard that drawing is "art", and that you need "talent" for it. But nobody actually taught you drawing, right? We all learned to write, but not to draw.  

You don't need talent. You need the right instructions.
For decades I didn't dare to make my own illustrations. I thought I just wasn't good enough. When it came to drawing "just a little illustration", I got paralyzed. 
Until, one day,  I found out that drawing is easy when I focus on the message. 

To get started, you have to learn just enough to get your message across.  These can be really simple illustrations! You will learn the tricks that enable you to start sharing your drawings right away. 

Later, you can have fun refining and polishing your drawings.  
And the best is: Because I struggled so long to do my own illustrations and found a way out - I can teach you how to do it, too! 
The artists with lots of "natural talent" make stunning images, but often can't explain clearly what they are doing.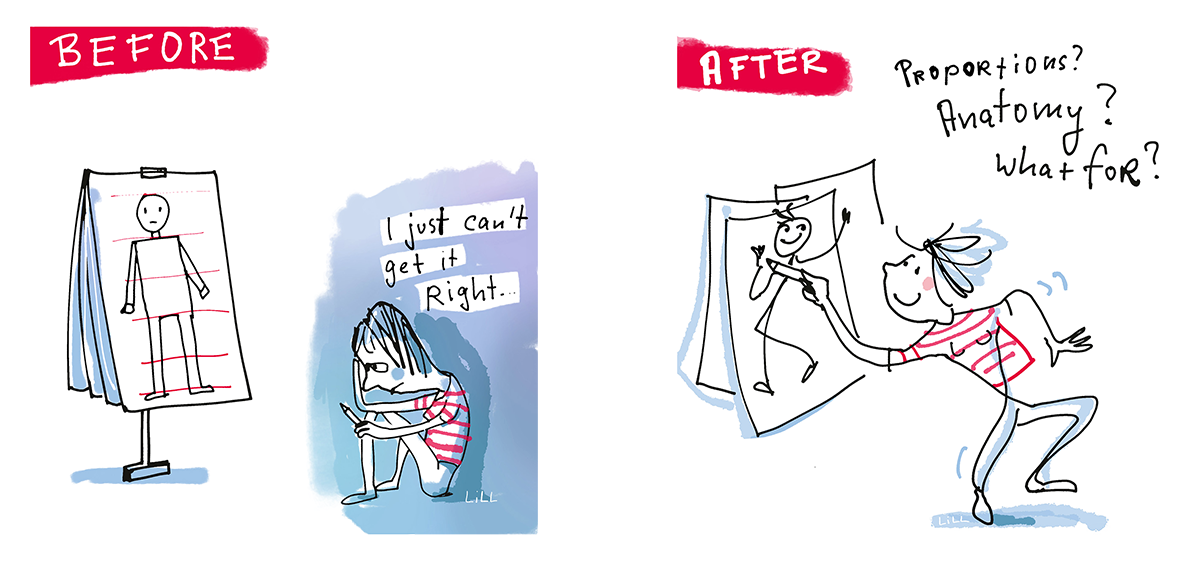 That said, there is a lesson about "proportions" in the class, so you know what you are allowed to ignore.
I explain drawing in an easy,  practical and systematic way
This is the course I wish had existed when I started out. Many drawing tutorials are too complicated. Who wants to sit through an hour long teaching video? I deliberately kept the lessons very short and concise. 
More testimonials
I love that you make it so simple. If you look at a comic in a newspaper you might think: "That's so difficult, I could never do something like that".  But then you take the first course from you and it's: "Oh  I can do that." With less time and less energy, I can make something that communicates my message. 
Jason Schneider, transformational coach trainer
here a drawing of Jason's favourite barista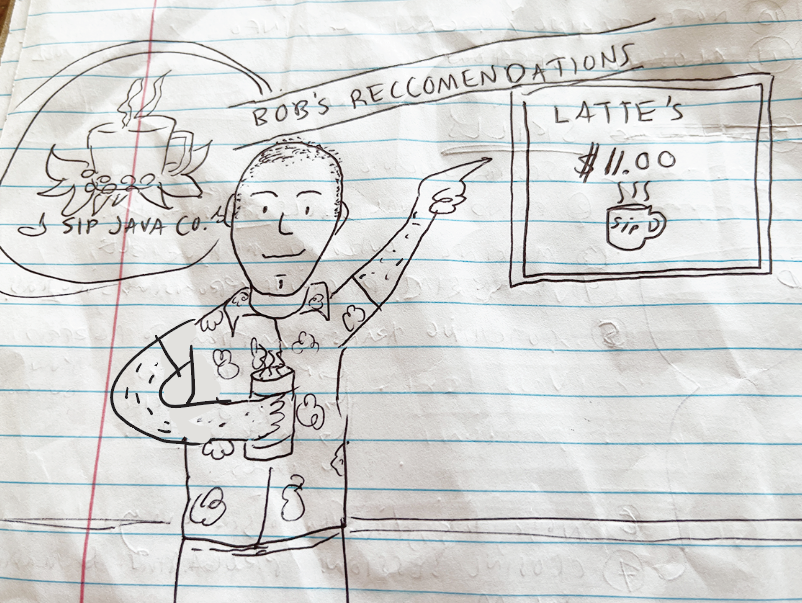 After a few weeks of sketching  ... I'm sharing my first business drawing on LinkedIn today 🙀
I've been supported by a wonderful group of people in Ingrid Lill's excellent Business Drawing Club.

Mark Crossfield, Career Coach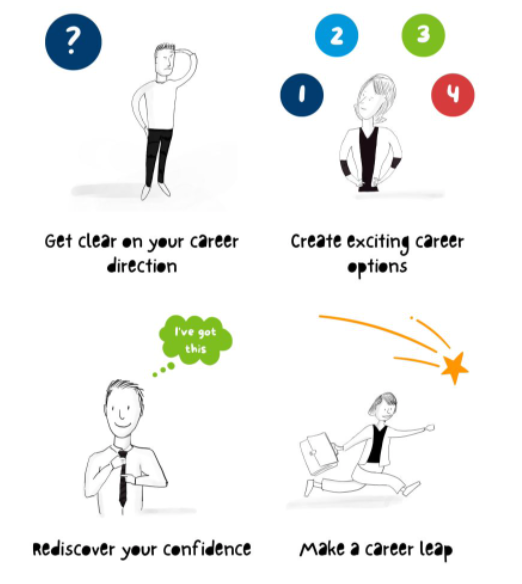 Ingrid thanks for a great session today, and all the knowledge you shared. I spent the day working on cartoon characters for my character voice portfolio…pretty fun.
This was exactly what I was hoping to get from the course.
Justin Hamacher, Experience Design Leader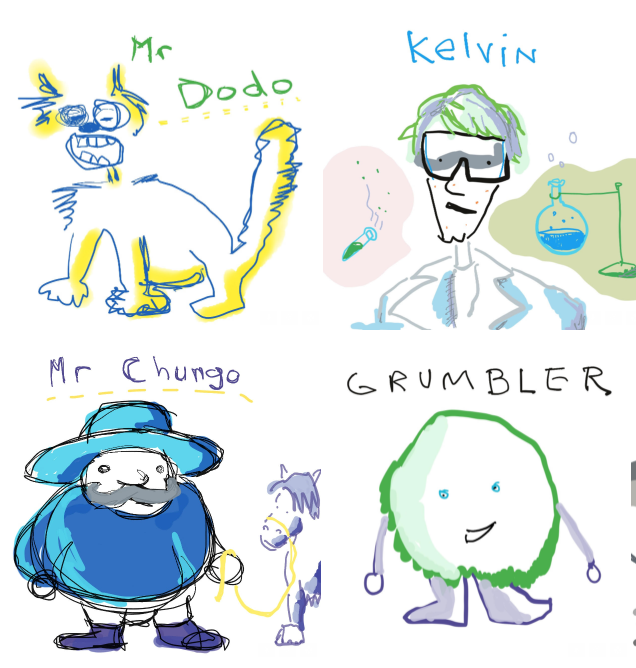 I wanted to do learn how to do laid back informal sketches on my PowerPoints and infographics for my trainings, rather than using boring, stock images from the internet (as the topic can be a bit dry). 
The course lessons are easy, I love them! It was about time I have some fun and learn something new. 
Maria P.
Thanks a lot – you rock mixing serious marketing tactics with drawing! 
It certainly gave me more confidence to express myself with drawing.
Nico Brier, Web designer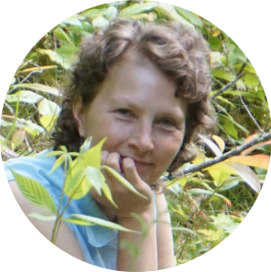 I did as you said and channeled what was in my heart. This way it felt much easier to draw. So I trusted it and went!  It came out pretty much the first time. I knew it didn't have to be perfect.
That's how I started to find my voice, and it got the ball rolling! 
Nadine Mazzola, Forest therapy guide
I used to think that I wasn't creative. I definitely didn't think that I could draw.  I'm so glad I joined Visual Thinkers'.  Playing with how to communicate a new idea is fun, and a totally new skill for me.

I love that I can get feedback on my drawings! 
I've started to illustrate my newsletters, and just yesterday I got a response telling me I should start posting them on Instagram. Which I will do.
Medha Murtagh, coach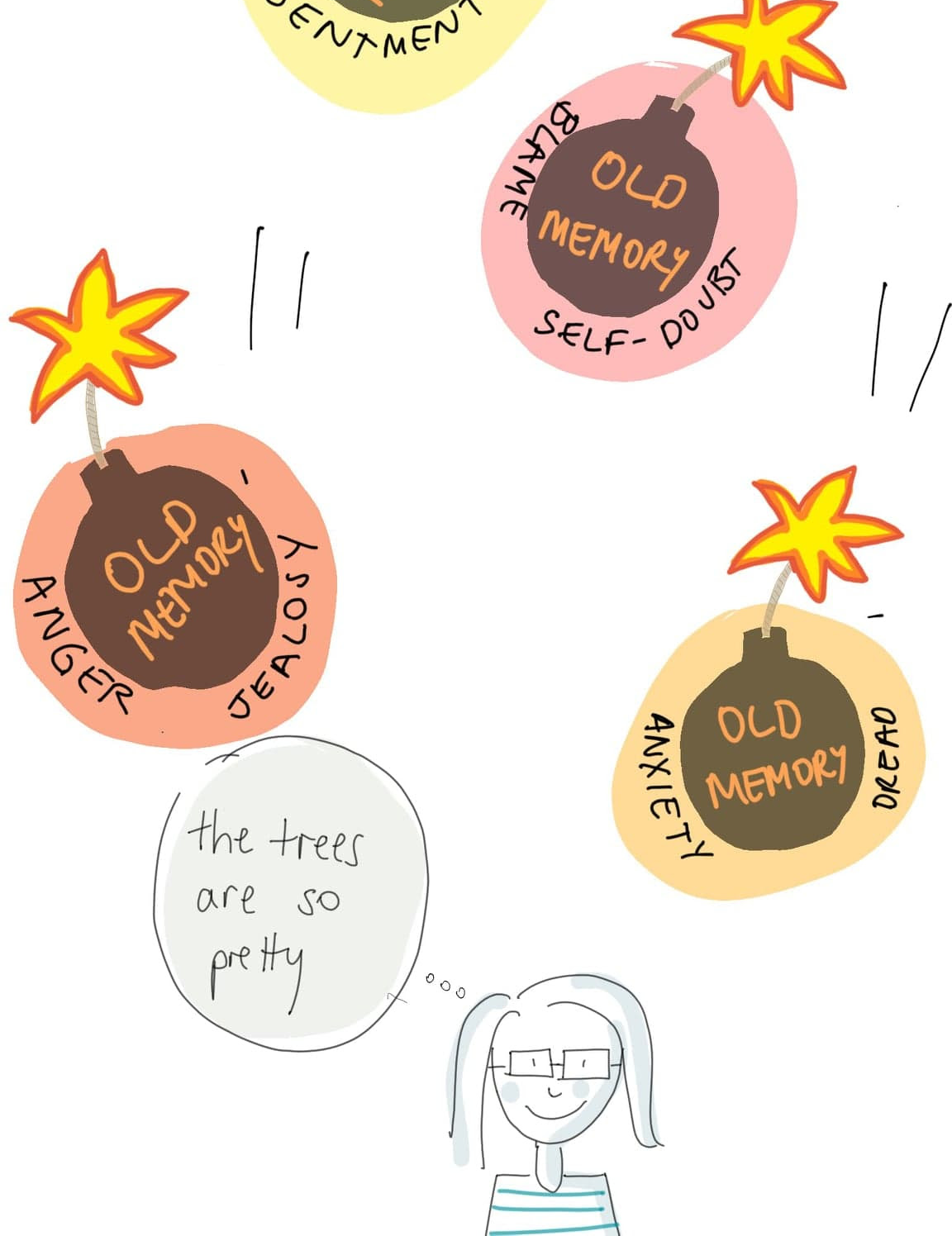 So I really never thought I could draw... But I love visuals and I enjoy learning, and the amazing Ingrid Lill told us that we all can draw, so here we go. 
Here is my drawing showing some "inner characters"
 😊 Thank you, Ingrid, for teaching us how to draw in such a simple and fun way! Can't wait to learn how to create more visuals.
Manuela Pauer, coach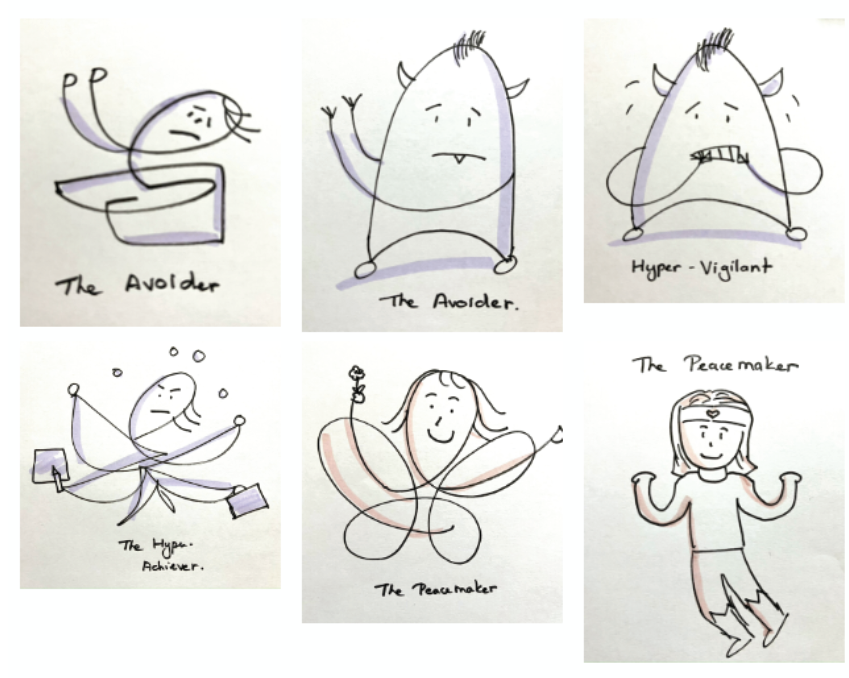 Absolutely love the Tuesday evenings with Ingrid Lill. She is a professional illustrator. Tonights theme was "going crazy" with bright colors. Certainly got my mind on something else – I feel refreshed!
Helle Langgard, Coach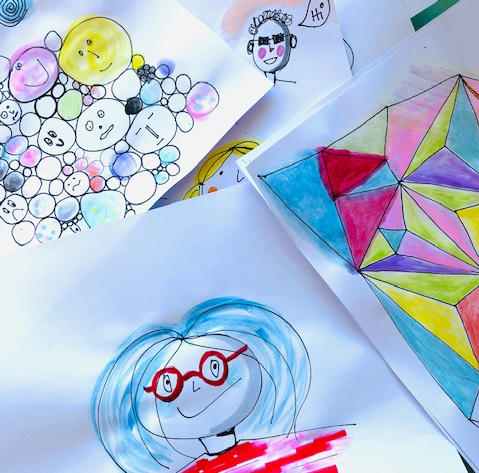 I'm slowly "coming out"
as an artist
.
Something deep down that was being held until retirement or "some other day" in a distant future.
Truth is I don't plan on retiring, and we never know if we do actually have another tomorrow.
I'm now on my 3rd lesson and starting to sketch my business story board.
What magic are you keeping small?
Don't die with any of "your true colours" left inside.
Ps Thanks
Ingrid Lill
for my first art lessons in about 40 years
Facebook post from coach Mat Jeffrey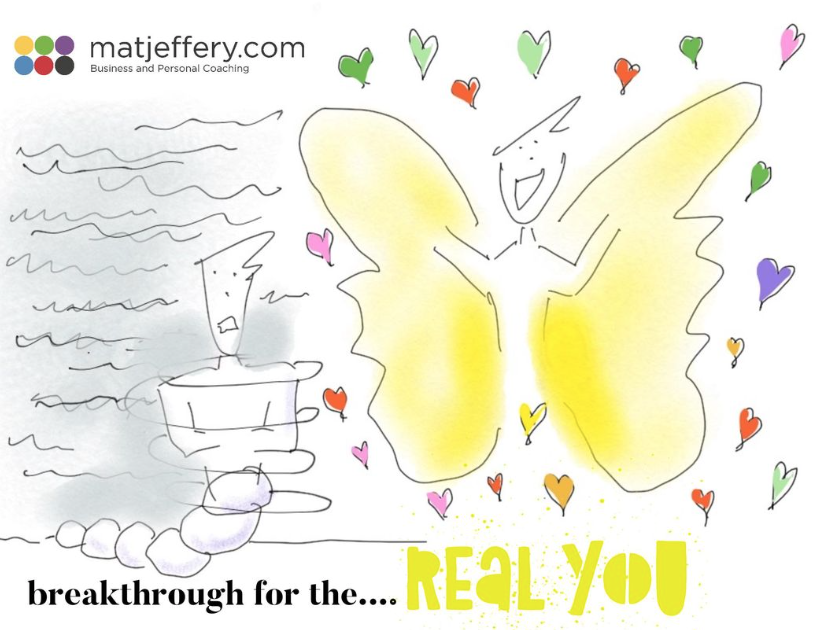 Frequently asked questions
How can I use this in my business?
Here is an example: Explain your process to your clients with a simple drawing.
What does your framework look like? A pyramid? Spiral? Or a Flywheel?

---
I'm too stressed. I have so much to do! 
Drawing is not only useful, it is also fun! Here is what course participant Helle says about the live sessions: 

Absolutely love the Tuesday drawing sessions. Tonights theme was "going crazy" with bright colors for half an hour. Certainly got my mind on something else, - I feel refreshed....
Because drawing is so different from what you usually do, it will probably contribute to de-stressing!
You can practice together with your children. They'll love your new hobby. 
---
How much time do I need to invest?
I'm not going to lie: You do need to make time to practice if you want to get better. Best if you draw a little bit every day. But even if you ONLY draw in the Tuesday sessions, you'll also get a few nice drawings every week! (But I encourage you to go through the course and do the lessons. It doesn't take long.
 
---
I have already taken a graphic facilitation class, but I am not happy with my drawings. Will this be different?
Through my long experience with drawing and design I see immediately what is "wrong" with a drawing. 
Here is an example: Susanne had taken a graphic facilitation course, but was frustrated with her drawings- especially her figures. See the before and after: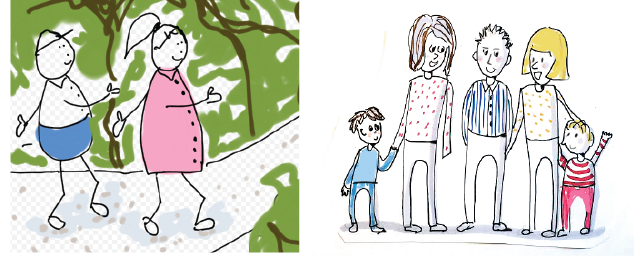 ---
I can watch free drawing tutorials on Youtube! 
The visual Thinkers' Business Club is more than a drawing class. In the live sessions I give feedback and share my insights on visual storytelling, web design, branding, and business building. 
But that said – if you find an artist you like, you can absolutely can learn from YouTube videos! With or without my class. But here is what a participant said:
"After going through your class I look at other cartoons or comics with new eyes. I can see all the tricks they are using, and I can copy what I like"
Can I keep the course when I leave the club?
In short: No. You have access to the material as long as you are a member. It works on a rolling monthly basis and you can cancel anytime.
That said –  you can download the worksheets and instructions. If you want to keep the course as-is, you can buy the simple illustration self-study course.
Why learn from me?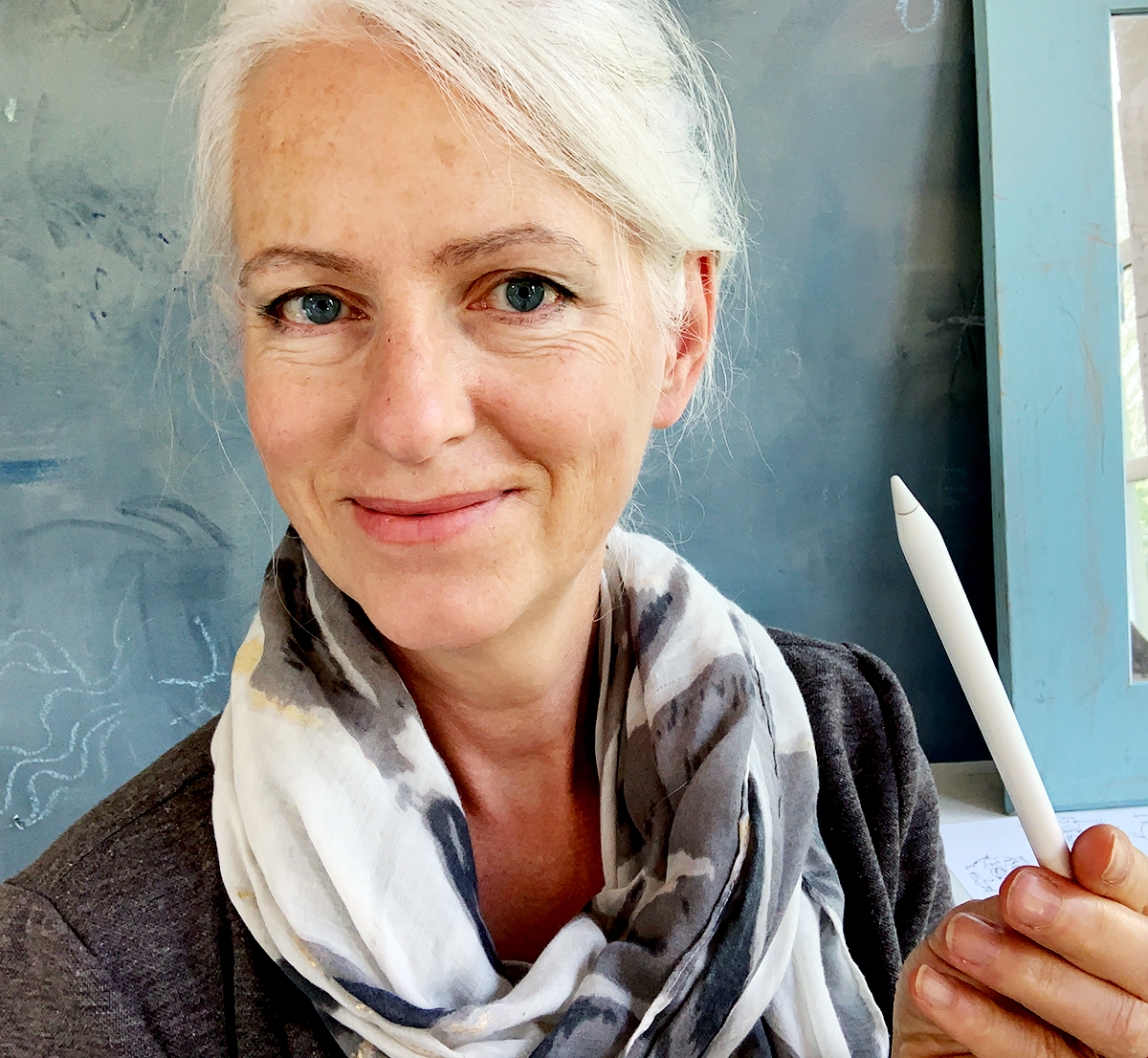 Hi, I'm Ingrid Lill. Communication designer and professional illustrator. I am German, live in Denmark, and  I speak English in my classes. Very simple English! You can ask questions in German or Danish, no problem.  I'll translate. 
I have drawn all my life.  But it was first after I started doing graphic facilitation  for organisations that I embraced the "fast and fun" illustration style that I'm teaching now. I share all the most useful tricks that I have learned over the years.
Drawing has transformed my business. It helped me stand out and escape being a generalist graphic designer. Now my business is not only more fun, but also more lucrative. 
No matter if you are a total beginner, or you you just want to pick up the pencil (again) and learn a few tricks – I promise you that this class will be useful and a lot of fun!