Struggling to find your message? Let me sketch it out for you. 
Brand Storyboard Café
Free Zoom workshop
 on May 3rd, 8 PM Copenhagen time
We meet on Zoom. I ask questions, and draw your answers.
You see the big picture of your brand emerge
If you find it difficult to talk about what you do it might be because 
you are too close to your own business
you have many (too many?) ideas
you hate marketing
My powerful visual Brand Storyboarding process lets you sort out your ideas visually, so you can SEE "the big picture" of your business! 
---
In the workshop, I'll do 10-minute mini sessions with volunteers in the hot seat. 
If you see your customer's journey laid out like that, it is as if you can walk around in their life, and you SEE how you have to talk, so they understand, listen, and buy.
Watching a Storyboarding session is also interesting for those who are "just" observing. You can download my template and draw along. 
 In a ten-minute slot I can only do a very rough sketch - but maybe enough for you to get inspired! 
Here is a video snippet from a past workshop session: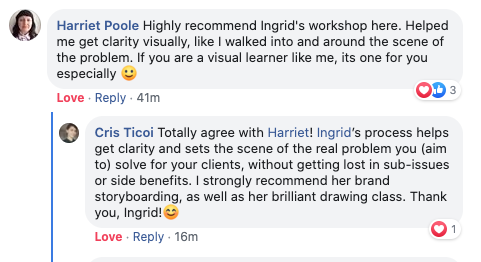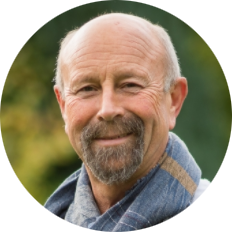 David Brookes, slimfellows
It was an eye opener to see the external and internal pain points! What also was really helpful was the need to be clear and specific about what makes Slimfellows different. I spend lots of time saying what it is is - but not how it is unique and that is very important. Many thanks for the insight - it brought a new clarity

Ingrid Lill – Visual Business Coach
 I help businesses with (too) many ideas to tell their story. 
It took me quite some time to figure out my own message though
As a freelance graphic designer, I designed countless logos, corporate identities, websites and brochures – basically everything that came my way.  My work came via word of mouth. Marketing myself was a foreign concept for me. 
Until I decided that I was done doing everything.
I wanted to do only the fun stuff. Drawing. Thinking. Helping my clients on a deeper level.
It took some time until I figured out how to set up my business, and how to talk about what I do. 
Only when I sketched out my own business plan I discovered that the tools of visual thinking can help tremendously with getting clear about your business message. 
This is how I discovered Business Storyboarding became my very own and unique signature service. 
It changed everything.
Now I'm on a mission to help all the creative business people and big thinkers to organize their ideas and help them through activate their (sometimes hidden) superpower - visual thinking.

My tool of choice is my (Apple) pencil. It is the most effective way to dive deep into my customers' business, and switch on a powerful space of co-creative insight. 
I'd love to help you find and market your message! 
You can see the work I'm doing for clients on www.lillbranding.com