Become your own illustrator!
   Illustration made easy    
  The drawing class for people who say they can't draw    
Are you tired of powerpoint presentations and would like to draw your own flipcharts, but you don't dare?


Would you like to express your personality and sense of humour on your website and publications, instead of using boring clip art and stock photos?


Do you wish you were confident enough to "just draw it up" when you are explaining something, on whiteboard (or the back of a napkin...) ?


Do you feel like you don't wholly express your creative potential?


Would you like to catch the attention of  your audience – from kids to coworkers?


Or do you just want to learn to draw (again) and become your own illustrator?
My Story
Uhh – I have been there. For decades I didn't dare to make my own illustrations, although I am a graphic designer and could decently draw from nature. But when it came to drawing "just a little illustration", I got paralyzed and used clip art  and stock photography like everybody else.
When I did draw it always looked "wrong". And somehow the thought "I can't even draw a simple figure from memory" stuck in my mind like a thorn and disabled me seriously. 
Until, one day, the picture turned 180 degrees when I found out that it is the "wrongness" what actually sets my drawings apart. There is no need to master perspective and anatomy – unless for fun. Drawing became easy and a means to express myself instead of an obstacle. (A very basic knowledge of perspective doesn't do harm, especially to analyze if something looks wrong in your image.  I'll explain that in my class.) 
And something else happened: My drawings showed me the way what to do. They helped me to become more visible, and my business took a whole new, unexpected (but welcome) turn. 

It all evolved organically after I had embraced the "wrongness" of my marks. 
 You'll be able to connect to your audience (be it family, students, clients...) in a way that goes deeper than language. Nothing catches peoples attention more than live drawing.


Knowing that you can draw something with a few strokes  will make you more confident. You don't need "talent" to learn to write, and you don't need "talent" to learn to draw. And who knows what will develop when you have started to master the basics.


Drawing regularly will make you more happy and reduce stress. Concentrating on the drawing process will teach you to slow down and use a different part of your brain. 


You tap into the wisdom of the right brain. You practice "creating something from nothing", which is a powerful skill! 


And, last not least: Drawing makes you happy!
The class I wished had existed
... drawing explained in a practical, original and systematic way!  Most drawing tutorials are either too difficult or too formulaic.

Because I have struggled so much with "easy drawing", I was able to  develop a system that just works. It is based on step-by-step recipes, but once you understand how it works, they can be tweaked and bent and played with. 
No matter which stage of craftmanship you are in, you'll be able to use these lessons! The most important part of the class is the mental one: To not believe the voice in your head that says that you can't draw. If you can hold a pencil and can follow instructions, you can draw!
Caveat: This class is NOT for you if you want to draw in a certain style, like Manga.  You'll be able to draw like YOU.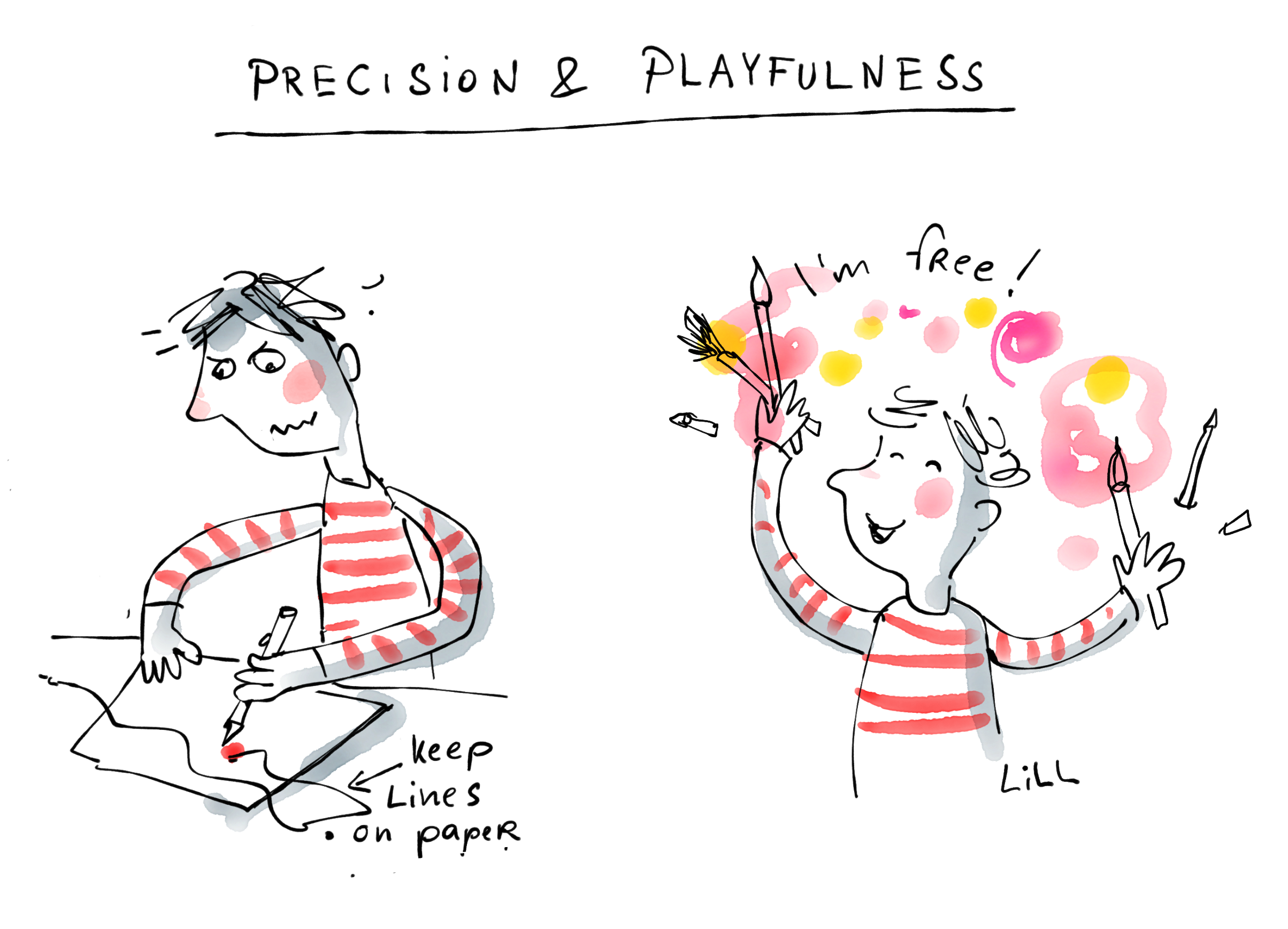 Learn to draw at your own pace
In this class I concentrate on the most important topic: Human head and figure, which is the most difficult, and in my opinion, the most important thing to learn. 


But you will also learn about the mindset that will set you up for success, show you how to hold the pencil (yes!), and teach you a thing or two about how draw AND use your drawings in real life. 
In my live classes students learn the basics in only 5 intensive hours. You can pace the class as it fits you. 


When you have worked through the 5 lessons,  you'll have a good grip around your illustrations, and you know how to draw! You can re-visit the lessons as often as you want. 


BONUS! You'll have access to an extensive – and growing! – archive of additional drawing lessons where you can learn useful stuff like lettering, perspective, animals, layout and much more for a whole year.


 If you want, you can accelerate your learning and  purchase a VIP session with me in order to get real-time feedback on your drawing. But also without that you'll advance with lightning speed! 
What participants are saying – and drawing
Su Busson, coach
www.beyourbest.at
Thank you very much for the course. It was really, really fun and I have learned a lot. I have always dreamed of being able to illustrate a little bit - for my blog and for little everyday stories. But I drew worse than a kindergarten child and my attempts quickly ended in frustration. And then Lill and her Illustrations course came along. Drawing was suddenly really fun and my pictures became much better.
In the course, Lill reveals lots of little tips and tricks that are easy to implement and make a big difference. Lill´s Feedback on the drawings was worth its weight in gold.
So if you say you can't draw but would love to, this course is definitely for you.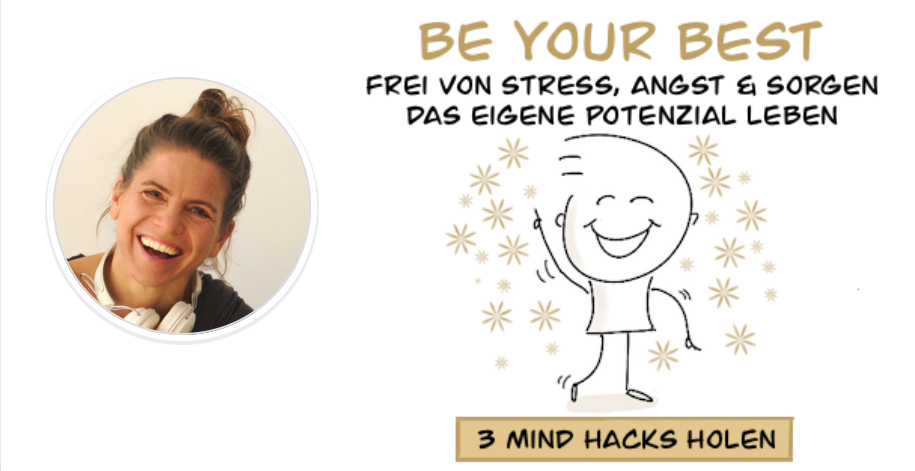 Malika Kelly 
"I took Ingrid's drawing class because I have always loved to draw but I had very little confidence. Ingrid taught me many tips and tricks that made my drawings that were once flat now pop off the page!  I love Ingrid's quirky style and I learned that sometimes it is best to not try to draw to perfection. Ingrid taught me to embrace my own style. She is encouraging and built up my confidence!  I would love to take another drawing class with her!



Michala Storm, 
www.michalastorm.com
I highly recommend "Illustration made easy"! This course is loaded with step by step instructions, helpful templates, tips and tricks. Best of all, you can get direct feedback on your drawings and also learn how to digitalize. The classroom is a great learning environment and Ingrid will show you how to make your own illustrations in a very easy to follow way. If you can hold a pen in your hand, Ingrid will teach you all you need to know to become your own illustrator.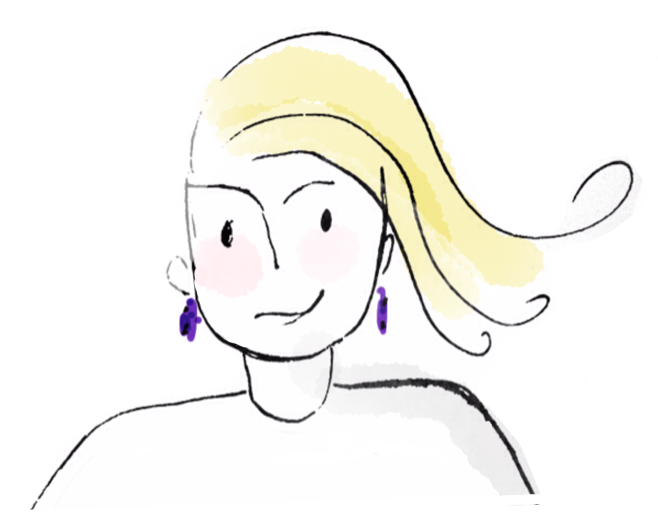 Sanina Kürstein 
Chefkonsulent, www.sensio.dk
Tusinde tak for en sjov, intens og udbytterig kursus, der bragte mig mange skridt videre. Jeg fik alle mine illustrations udfordringer håndteret og jeg fik lært nye færdigheder – f.x. hvordan jeg kan arbejde videre med dem på Ipad og pc. Jeg fik også lært hvordan jeg skal planlægge illustrationer og hvad jeg skal øve mig på.
Mit udbytte er at jeg fået flyttet en masse bøvl og uoverkommelige udfordringer i mit projekt. 
Jeg har fået lært hvordan jeg skal planlægge og bruge illustraitoner. 
Jeg har et klart billede af hvad jeg skal gøre og hvordan.
Så nu kan jeg bare gå videre med at tegne. :-)"
Bonus - Drawing Club membership
With purchasing "Illustration made easy" you get 3 months access to additional lessons and feedback sessions

Here you find all the elements and tools to tell a story or visualize a process. Build your visual library so you can practice drawing with confidence in every situation.
Here you find lessons about various topics like:
- how to draw animals, villains, hands, movement, perspective etc.
- how to digitize a drawing
- how to use drawing in a digital design
.... and I am adding more content every month. You can even request a topic and I'll put up a video about it. 
- monthly feedback sessions on Zoom

and more!