Dream - Draw - Do!  

  Create a vision map for your life, and manifest your dreams.  
Enrollment is closed for now, but you can sign up for the waiting list.
Do you feel like you don't really use your talents? 
Do have too many ideas and don't know which one to pick?


Are you longing for a more creative, playful and joyous life?
 

Do you feel  paralyzed by the thought of taking action?


Are you scared of "putting yourself out there?"
Create your world, and shine!
I know all about hiding. For a long time I was petrified by the thought of talking to a group of people, let alone appear on video! I always found a reason to not show my work, or my face, to the world. I longed so much for finding "the right thing". 

And then I found that I can simply create the "right thing"! 

If you are trying to follow a given path, it is easy to feel stuck.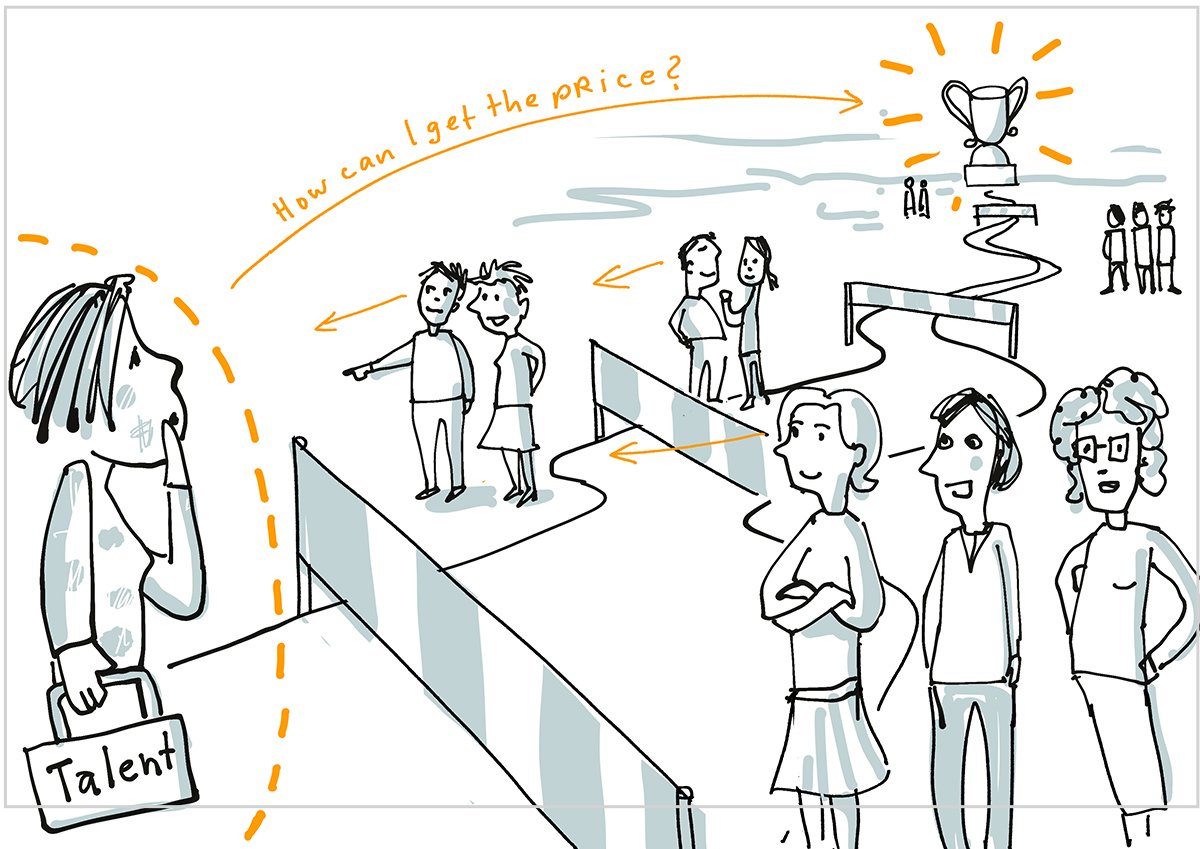 A vicious circle: You long for the "price" (fame, beauty, money...), but you don't dare to take the first steps for a fear of being judged by those who are further along the road. 
What we do in this class:  Forget the path! Draw what you want into your life. First on paper, then in reality.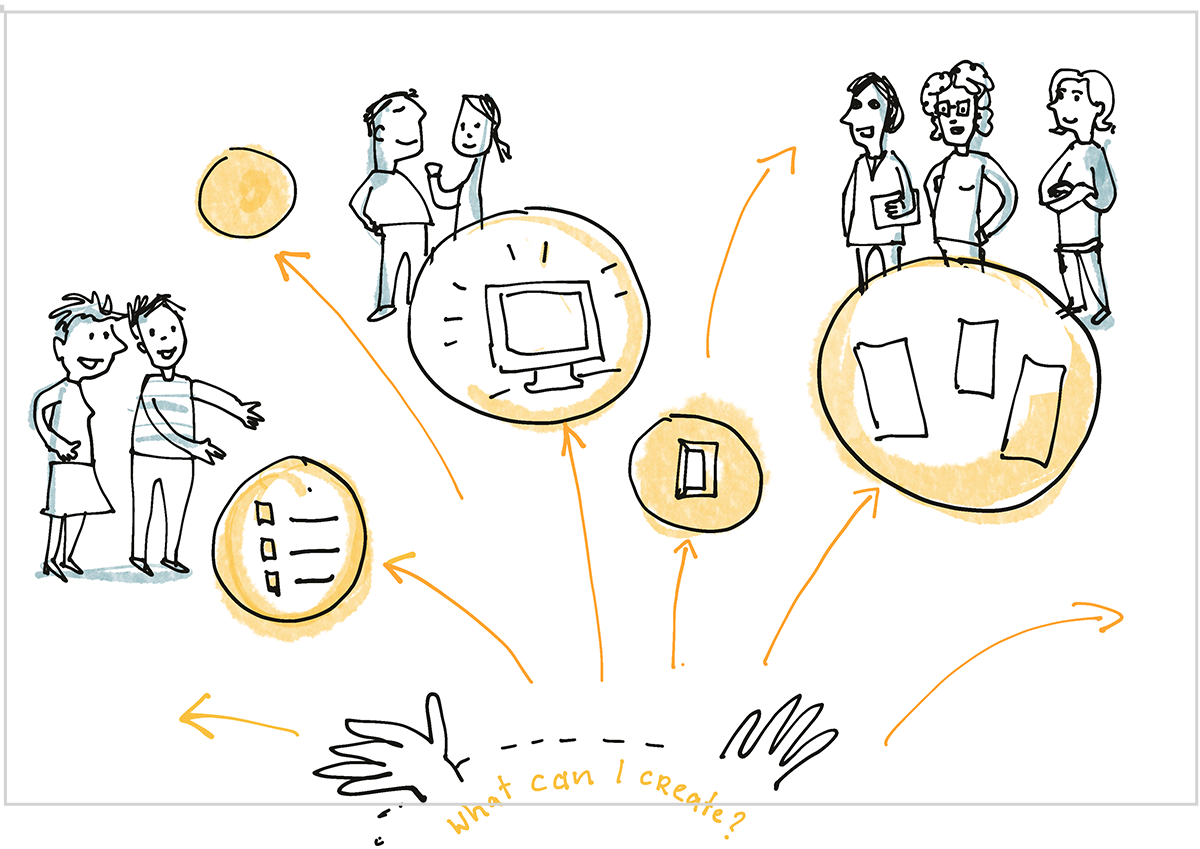 I found that reversing the perspective, life becomes much easier, playful and joyous. Sketching out what you want to give, and placing it on a map, is the first step to a life you love. 
Let's draw a vision board on steroids!
We create a dream map based upon the worldview of "what can I create". I will guide you through drawing your vision, wishes and goals on a beautiful map, and help you extract the first steps into the dream project planner. Here I show you the result of a map-making workshop.

The process of drawing the vision is a powerful process that enables you to intensely visualize your goals. Instead of endlessly leafing through magazines and cutting out other people's pictures, these drawings are coming from yourself, and will trigger whatever it is you had in mind when you drew it. 
You don't have to be good at drawing. I can show you a few tricks that make your dream-bubbles look good. And of course it is allowed to use collage, too! 

And, you'll get access to my online cours "Illustration made easy", in case you want to look a few things up. 

In this video I am showing what we are going to do in this class. 
What you get out of this class
Clarity
The first step is to gather ideas and put them in our brain's slow cooker.
The new way f seeing takes a lot of pressure off yourself and gives you space to breathe – and dream – big!
I'll provide you with inspiring questions, worksheets and excercises that will challenge your comfort zone, if you still believe in such a thing at this point. 
Creativity
We draw / paint / collage a vision board on steroids
On a saturday afternoon we'll hav an intensive mixed-media workshop and we draw an intuitive map of our dreams and desires.
You tap into the wisdom of the right brain.
You experience  the powerful skill of  "creating something from nothing".
And you create a beautiful map guiding you towards your dreams and goals that doubles as a portable project planner.
And have fun making it, AND you'll also improve your drawing skills!
Courage
When you have your clear vision and you know clearly which direction to go, it is easy to muster up the courage to act!


Habit building is the way to the new you that is ready to embrace the world.
You start to walk the path of your dream map. Baby steps are fine.
 It helps to have a group that is holding you accountable and cheering you on. 
This class is for you if...
you want to clarify your direction in life,

you like to draw, paint and create in general. You don't have to be "good" at it though! I'll guide you through. 

you want to get started with a project (or several), and you could use a little spark to get going. 

you want to improve your drawing skills with a fun project
What participants are saying
The question "what do I want to create" instead of "what do I want to get" is really helpful and gives a new perspective to how I see myself. I also use the model in my work when I facilitate groups at the workplace.

Sanina Kürstein 
workshop participant


I loved making a beautiful poster from my visions. I have it hanging above my desk and enjoy looking at it every day! My vision helps me keep focus on my dreams - and make them come alive.
Mette Brink
workshop participant
I love your creative approach to making a vision map and turning it into a booklet where you can record three months of action - genius!

I usually just make lists in a notebook which is very linear but I can imagine that when you draw your vision yourself, one thing flows from another and you activate different parts of your brain.


In the past, I have created vision boards by cutting pictures out of magazines but never found suitable images. However, if you draw the images yourself they are coming from you and it doesn't matter how bad you think your drawings are – whatever marks you put on the paper are going to trigger what you had in your mind. I can see how drawing your vision board can be a fun and cool tool.

Mary Strange
webinar participant
Schedule 

Enrollment is closed for this round of Dream - Draw - Do. You can sign up for the waiting list to get notifications for the next round.
if you have questions, don't hesitate to write to me at ingrid@fraulill.dk
Illustration Made Easy online course
While you are waiting for the doors to Dream - Draw - Do to open again you can check out my Easy Illustration class! It is a self paced drawing class for people who say they can't draw. Here I give you a little overview. 

Here you get all the tools you need to draw your goals, tell a story or visualize a process. You will learn the basics of figure drawing and it will help you build a visual library so you can draw  with confidence in the future. Be it on flipchart, blogposts or greeting cards! 

In the growing archive you'll find drawing lessons about:
Basic figure drawing


Facial expressions 

Various characters, movement and scenes

Introduction to perspective

Dogs, cats and other animals

- and much more!
Take a look at Illustration made Easy here!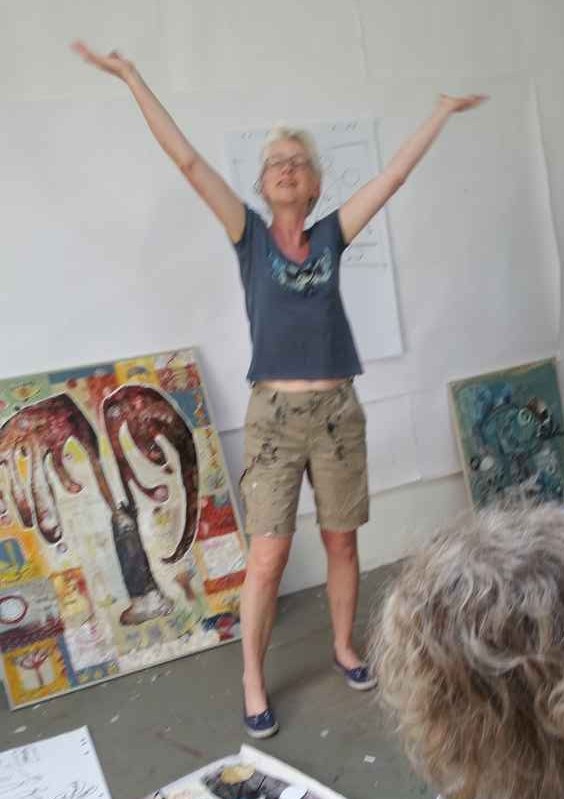 A few words about me:

My name is Ingrid Lill, visual artist and transformative illustrator.
I am German and live in Denmark. The class language is (simple!) English. I also respond to Danish and German questions, and translate on the way. 

Apart from drawing and designing and making weird dolls I am interested in the Very Big Questions of life,  and I  have explored about everything  from  Byron Katie to Douglas Harding, Sydney Banks, Zen Buddhism, Schopenhauer and Neurobiology. Lately I went full circle back to art – hence this class.   

I also give live classes in my studio.
In this picture I am demonstrating the "fountain" -model this class is based on, in a live version in my studio.